Anthropology is the comparative, evolutionary and historical study of human, and nonhuman primates. At the University of Utah, this broad field is divided into four subfields: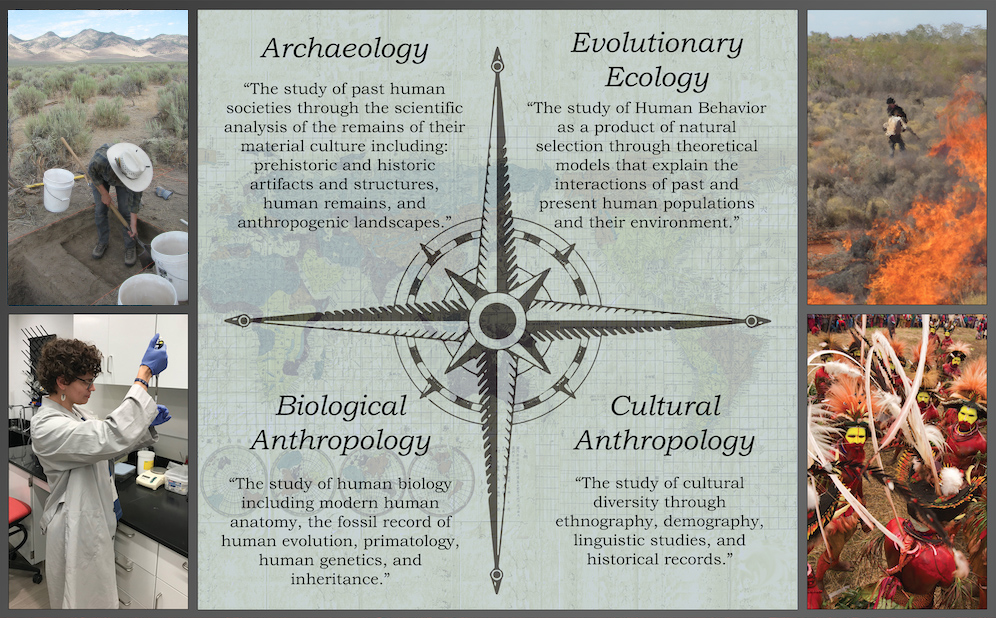 Our department takes a theoretically driven, empirical approach to this study, and specializes in archaeology, genetics, evolutionary ecology, demography, hunter gatherers, and evolutionary approaches to human and primate behavior. Our faculty performs research that crosses disciplinary and sub-disciplinary lines. We encourage our students to do the same and become a part of the Anthropology research community.
CAREER OPPORTUNITIES
Graduates in anthropology are working in a wide variety of careers where human culture, behavior and biology affect outcomes. Anthropologists can be found in private and public corporations, all levels of government, educational institutions and non-profit associations. Graduates of the program may pursue work in museums as curators or archivists, enter the nonprofit sector as grant writers or program managers, or become employed by the government as surveyors, urban planners, or policy analysts. Google, Facebook, Intel, and Microsoft hire anthropologists to study market trends, human behavior, and technology. A degree in anthropology will also prepare you for an advanced degree in business, medicine, or law.
Anthropology is the comparative, evolutionary and historical study of humans, and nonhuman primates. The Department of Anthropology is currently divided into four subdisciplines: Archaeology, Cultural Anthropology, Evolutionary Anthropology, and Heath. Students interested in a specific sub-discipline should consider an emphasis, otherwise the major in Anthropology (no emphasis) is designed to give students a wide range of flexibility in choosing classes from any of the four divisions.
ANTHROPOLOGY MINOR
The Anthropology Minor is for students who are interested in adding an Anthropological focus to another major. Students who are interested in the Anthropology Minor, and are currently majoring in a related subject (particularly if that major is one of our allied departments) should set an advising appointment and explore the possibility of a double major.

INTEGRATIVE HUMAN BIOLOGY MINOR
Integrative Human Biology (IHB) is an interdisciplinary initiative and interdepartmental minor based in the Departments of Anthropology and Biology. Its purpose is to advance education and research in human form and function, human evolution and biological variation, human behavior, and the roles humans play in local and global ecosystems.