Zooarchaeology and Field Ecology Field school
Zooarchaeology is an interdisciplinary subfield of archaeology focused on the analysis of animal remains from archaeological contexts to address questions involving past human foraging behavior, paleoecology, and paleoclimate. The foundation of this research is the identification of archaeological vertebrate bones and teeth but much of the meaning of those data resides in knowledge about the behavior, ecology, and natural history of the identified species. This novel, hands-on, laboratory- and field-based course is designed not only to train students in the identification and analysis of fragmentary vertebrate remains but to provide them with a rich background in the natural history of vertebrate animals that is essential to conducting zooarchaeological research. Unlike any other archaeological field experience, students will gain expertise in the identification of fragmentary vertebrate remains from archaeological contexts in the western U.S. and at the same time be immersed through daily field trips in the natural history and ecology of local vertebrate animals in a remote and scenic setting in the Sierra Nevada mountains of northern California on the shore of Eagle Lake. Topics that will be covered include foraging theory, prey choice, the nature of the archaeofaunal record, units of quantification, taphonomy, ecological concepts and theory, vertebrate taxonomy and natural history, and skeletal preparation. Students gain additional experience in archaeological vertebrate identification and analysis through the completion of a problem-oriented research project based on the analysis of one of several provided faunal assemblages from sites in western North America. Students attend and present their research at the 16th Annual Zooarchaeology Conference held at Eagle Lake the last weekend of the field school and thus attain invaluable experience in delivering professional conference presentations as well as the opportunity to network with a diversity of prominent zooarchaeologists.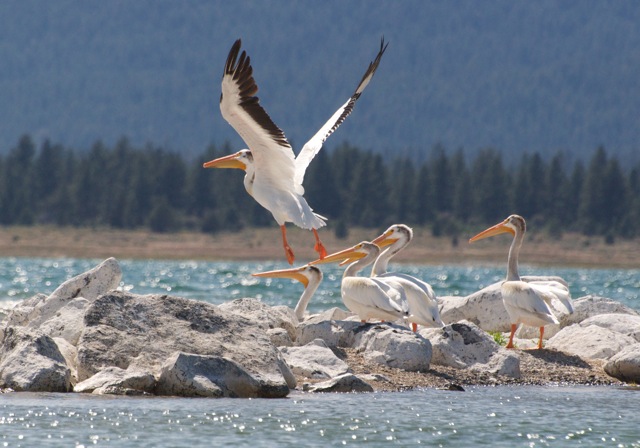 Program Dates: June 6, 2020 – June 28, 2020

Enrollment limited. Application (see below) is required. Students enroll in University of Utah, Anthropology 5712-section 2; (Field Methods: North America). 6 semester credit hours. Click here for course syllabus.
See a review of this field school on Archaeodirt: http://archaeodirt.weebly.com/field-school-reviews/category/zooarchaeology
Contact Jack Broughton (jack.broughton@anthro.utah.edu) for more information.

Course Instructors: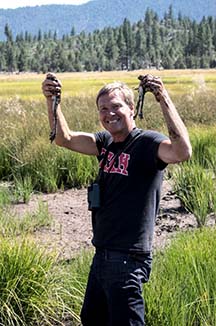 Jack M. Broughton (Ph.D. University of Washington, 1995) is a Professor of Anthropology at the University of Utah where he teaches archaeology, osteology, and zooarchaeology. His research focuses on hunter-gatherer zooarchaeology and prehistory in western North America and the application of behavioral ecology to archaeological issues. Jack is passionate about zooarchaeology and natural history and has been involved in developing and teaching this course at Eagle Lake since its inception in 1988. He is also the author of Zooarchaeology and Field Ecology: A Photographic Atlas, a publication that was created specifically as a text for this unique course.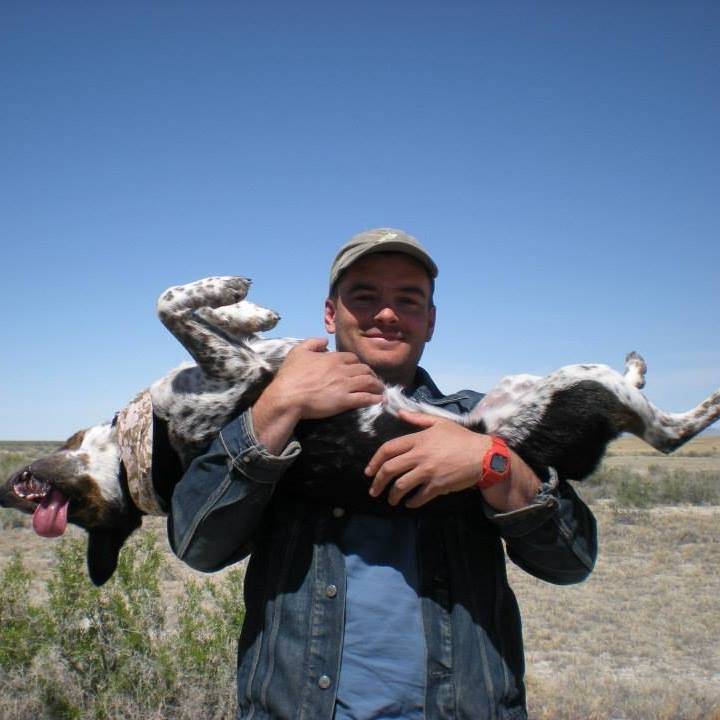 Isaac A. Hart (Ph.D. University of Utah, 2017) is a Post-Doctoral Zooarchaeological Research Fellow at the Department of Anthropology, University of Utah. His research focuses on the archaeology of western North America and Mongolia and paleoenvironmental reconstruction and prehistoric human subsistence based on the analysis of archaeological vertebrates and fossil pollen. Most at home in the field, Isaac is a star alumnus of this field school and has been part of the program for the past eight years.
Accomodations:
This course will take place at the Lassen County Youth Camp, a relatively isolated facility located in the scenic and relatively undeveloped northeastern corner of California. The remnant of a much larger Pleistocene lake, Eagle Lake sits at the junction of four major geologic provinces: bordered on the west by the forested slopes of the Sierra Nevada and Cascades, on the east by the arid Great Basin, and on the north and east by the volcanic Modoc Plateau. This region offers a unique set of biological communities, including a rich vertebrate fauna. The Eagle Lake Field Station now operates independently and includes dormitory style accommodations, a dining hall, a small library with internet access, and conference room as well as other amenities to enhance recreational use.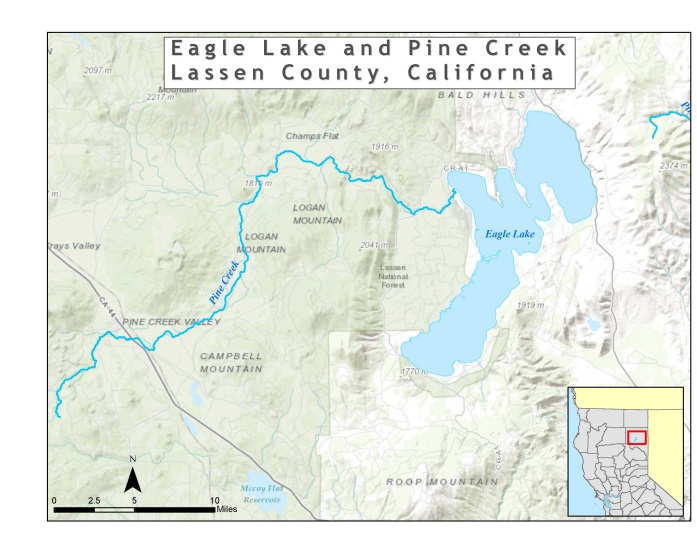 Meals:
Breakfast, Lunch, and Dinner will be provided at the field camp and are included in the course fee. Please let us know when you apply for this program if you have special dietary needs, as well as any medical or physical conditions. We will advise you accordingly.
Field Trips:
Students will visit a wide range of local prehistoric and historical archaeological sites and ecological communities in the Eagle Lake area as well as in surrounding areas of northeastern California, southern Oregon, and northwestern Nevada. Please consult with the faculty about independent travel during and after the program.
Travel to Eagle Lake:
Students can arrange travel to the Lassen County Youth Camp on Saturday, June 6 in two different ways: 1) drive their own vehicles or 2) fly to Reno/Tahoe International Airport in Nevada. Transportation from Reno to the youth camp is provided; vehicles will be departing from the Reno/Tahoe International Airport to ELFS at about 12:00 PM on Saturday, June 6. After the course, we will drop students off at the airport mid-morning on Monday, June 29. Please inform Jack Broughton of your plans in advance so that we can plan accordingly.
Tuition and Fees:
Students are responsible for paying upper division level tuition as assessed by the University of Utah. Students should figure tuition according to Resident fees as there is no Non-Resident tuition assessed for summer courses. Note that tuition amounts are subject to change without notice. The exact tuition for Summer 2020 will not be available until sometime during April 2020 (for 6 credit hours last summer it was $2513.00). There is also a special fee of $2399.00 for the course that is used to cover room and board, field trip, and other expenses at Eagle Lake. The total cost is thus ~$4912.00. Tuition and course fee is due in early June 2020. All participants must enroll in the course for the full 6 credit hours.
Enrollment, Application, and Experience:
Admission to the field school is limited to 8 students and applicants must complete the application form as soon as possible (email application to: Jack Broughton). No previous field experience or background in zooarchaeology is required and we welcome a wide range of academic backgrounds. Applicants must be able to meet the somewhat strenuous demands of hiking in the rugged but scenic setting of the Eagle Lake region.
Insurance:
Participants must provide their own health insurance. Student health insurance plans are available through the University of Utah. Please contact:
Student Insurance Office
Wasatch Clinic
555 Foothill Blvd.
Salt Lake City, Utah 84112
1-801-585-6949
Financial Assistance:
Financial Assistance can potentially be obtained through the office of Financial Aid and Scholarships
Testimonials:
"This field school was honestly the best thing I did during my undergraduate career. The group was small (they limit it to 8 students), so everyone was able to get a lot of one-on-one attention from the instructors who are at the top of their respective fields. We also were able to become a close-knit group and the faculty got to know us all really well. (Which is how I decided to attend University of Utah for graduate school to work with Dr. Broughton!). This field school gave me a strong foundation of zooarchaeological and ecological skills and knowledge. We learned how to identify fragmentary vertebrate remains both in the lab and in the field, with a focus on the animals of western North America, and we learned all about taphonomy and quantification of animal remains. We also learned all of the taxonomy and ecology of these animals, which is essential background knowledge for a zooarchaeologist. Furthermore, we learned about behavioral ecology and its application to zooarchaeology with an emphasis on foraging theory and prey choice models. And, as having a comparative collection is essential to zooarchaeological research, we learned how to prepare skeletal specimens and study skins from deceased animals. We also gained invaluable experience planning and conducting a research project, writing a scientific paper, and presenting at a conference. The low student-to-instructor ratio allowed for a lot of one-on-one learning and advice. This field school is one of a kind—it is the only zooarchaeological field school in the U.S., if not the world. Whether you want to specialize in zooarchaeology or you just want to add another skill to your archaeological repertoire, this is the field school for you... They [the faculty] are behavioral ecologists, and as such subscribe to a scientific (rather than an interpretive) framework for archaeology. I learned more during this field school than I could have during a full semester in a classroom, and I got to do it in a beautiful place in the northern California woods. You will come away from this field school with the knowledge and experience you need to conduct your own zooarchaeological research. Not only that, but you will really get to know the instructors and the other students, so it is an invaluable opportunity for networking. But most importantly, this field school is a blast! I would absolutely recommend this field school. Even if you don't want to specialize in zooarchaeology, every archaeologist should be capable of identifying bones. So if you are willing to put in the work and eager to have a lot of fun with awesome people in a beautiful place, this is the field school for you!"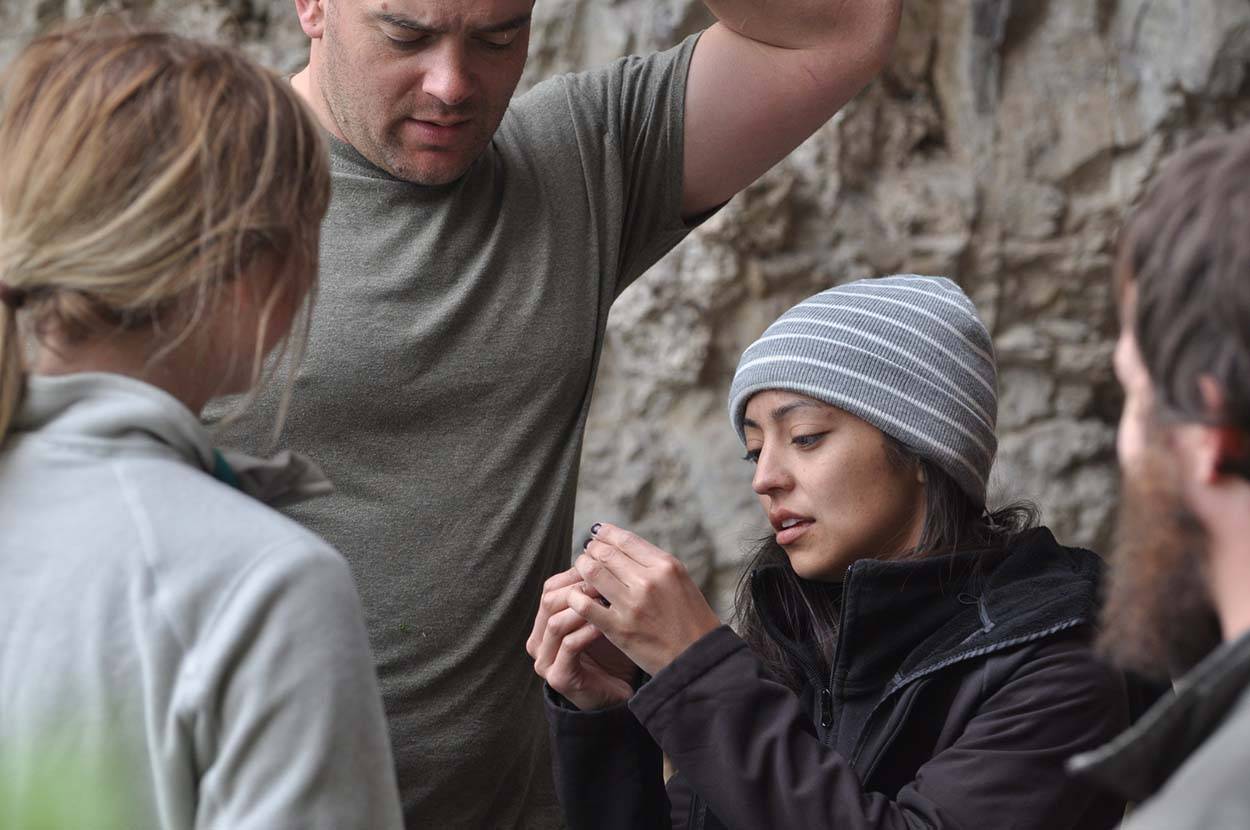 "Choosing to attend the Eagle Lake Zooarchaeological Field School was one of the best choices I ever made. It is simply amazing how many memories you can make, how many friends you can meet, and how much you can learn in just one month. The learning environment, nestled in beautiful Lassen County near a gorgeous lake, cannot be beat. The entire field school is based on hands-on learning; not a day went by that we did not spend time with the exhaustive comparative collection, identify animal species out in the field, or work with actual archaeofauna from sites all around North America. The research paper prepared in the last week of the course and an opportunity to present this paper at the Stanley J. Olsen Memorial Zooarchaeological Conference are also invaluable experiences. Throughout the entire field school the professors provided attentive, one-on-one help; they really got to know us and worked hard to help us succeed. I came away from the course not only extremely knowledgeable about field ecology and zooarchaeolgical methods; I came away a fuller person, even more dedicated to my chosen career and now with the experience and skills to practice it anywhere I wished."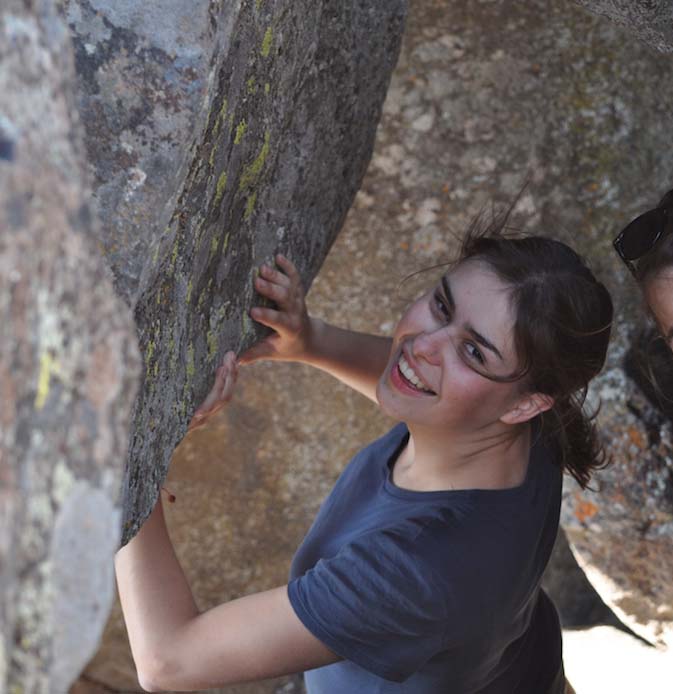 Katie August, Undergraduate, University of California, Davis
"I attended the 2012 Zooarchaeology and Field Ecology course through the University of Utah and it was an experience I will never forget. As an undergraduate studying Wildlife Science and Archaeology I was hard-pressed to find a field school, not to mention a career involving both of my interests. I stumbled upon the ZOFE course and applied hoping that I had finally found my calling and I couldn't have been more right. In this course, I acquired tools including knowledge of vertebrate skeletal anatomy, ecology, archaeology, and field methods while being simultaneously immersed in the fascinating prehistory of Northern California and Great Basin native cultures. A huge bonus was the numerous hiking trips and field excursions we took throughout the course that involved observing and studying animals in the wild. We also developed and conducted our own independent research projects with the help of our instructors and peers that we then presented at the Stanley J. Olsen Zooarchaeology Conference. Our time at the Field Station was fleeting, but the skills and the memories I took away from the course will last me a lifetime and I would encourage anyone with an interest in wildlife, anthropology, or even just history to take this course."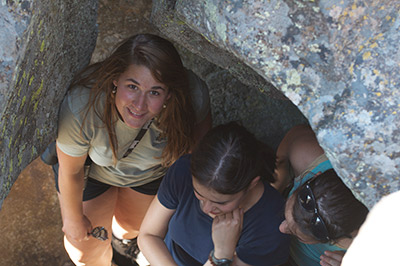 Jessica Rodkey, Undergraduate, Purdue University
"Eagle Lake Field School is a most unique combination of archaeology, natural history, and field ecology. The small class size, passionate instructors, and unique field station location made it without a doubt the most fun, rewarding, and intense learning experience I have ever had. The classroom lectures, lab activities, and the daily hikes are all intertwined to reinforce the large amount of material that is introduced in a short amount of time. The weekend camping trip to see important archaeological sites and the zooarchaeology conference held at the end were both invaluable experiences as well. The opportunity to design an independent project and then present it to a small group of professional zooarchaeologists in such a laid back setting as Eagle Lake was an experience that to my knowledge can be accomplished nowhere else. I would recommend this program to any zooarchaeologist, field or wildlife biologist, paleontologist, or anyone who has an appreciation of natural history!"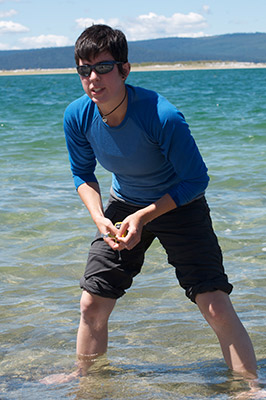 Kathryn Mohlenhoff, Graduate Student, Portland State University
"Participating in the 2011 Zooarchaeology and Field Ecology field school at Eagle Lake was one of the best experiences I have ever had. The school balances a focus on vertebrate osteology and archaeofaunal research with hands-on animal and plant identification. The course is rigorous; however there was never a dull moment and the information I learned has really stuck with me. One of the best parts of this field school is the daily hikes and field trips to the areas around Eagle Lake as well as to some of the most significant archaeological sites in California, Oregon, and Nevada. These trips, which were a total blast, reinforced what we learned in lecture and lab by letting students observe and identify live animals and plants, as well as encouraging us to make on-the-spot vertebrate bone identification. Aside from being in a truly beautiful and diverse environment, working with Professors Jack Broughton, Jay Bogiatto, and Frank Bayham was an amazing opportunity. They make an excellent teaching team and they gave us the tools to make our own identifications and design our own research projects. I had a great time working on my final project and participating in the Stanley J. Olsen Eagle Lake Zooarchaeology Conference. This conference was a great opportunity to experience what zooarchaeological research is like, as well as to hear from other zooarchaeologists about their research. The other students were interesting, hard working, and fun – it was a wonderful group of people to work with. I would recommend this field school to anyone interested in zooarchaeology, archaeology, biology and ecology. I absolutely loved Eagle Lake, and I would go back any day."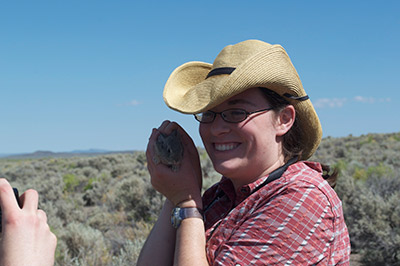 Molly Barnewitz, Undergraduate, University of Utah
"I attended the Eagle Lake zooarchaeology and field ecology field school in 2010. I had a blast the whole time, and the course was one of the most valuable and memorable experiences of my life. The intense laboratory and lecture component, in-the-field observation of animal ecology, field trips to important northeastern California archaeological sites and the pristine setting of the field station combine to make it truly unique among field school experiences. The highlight for me (besides the awesome fishing nearly every morning!) was being able to present the findings of my research project at the Stanley J. Olsen Eagle Lake Zooarchaeology conference, held the last weekend of the course. Overall, it was a great supplement to the archaeological field methods course I had done the year before, and I highly recommend the course to anyone interested in zooarchaeology, regardless of experience."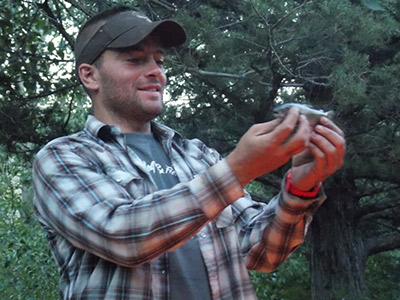 Isaac Hart, Graduate Student, University of Utah
"The Zooarchaeology and Field Ecology course at Eagle Lake was one of the best classes I have ever taken. The unique learning environment allowed for an in-depth examination of local fauna, which aided my understanding of animals in nature, and how surroundings affect zooarchaeological remains. The course was an intense four weeks of non-stop learning and non-stop fun. Every field trip and hike was an adventure and educational opportunity I would gladly relive. The chance to present research to peers and professionals at the Stanley J. Olsen Conference was a fantastic conclusion to the course. I would recommend this course to any student, especially those interested in zooarchaeology and ecology".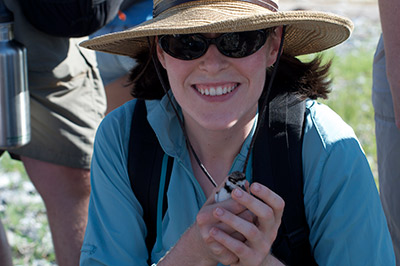 Kate Barnewitz, Undergraduate,University of Utah
Photo Gallery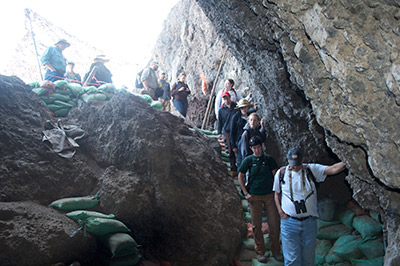 Field Trip to Paisley Caves, Southern Oregon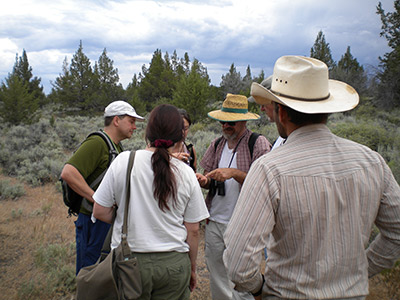 Frank Bayham (center) assists students in field bone identifications.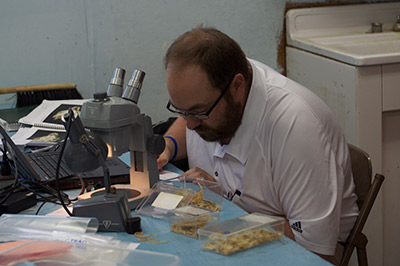 Identifying archaeofaunal material in the osteology lab, Eagle Lake Field Station.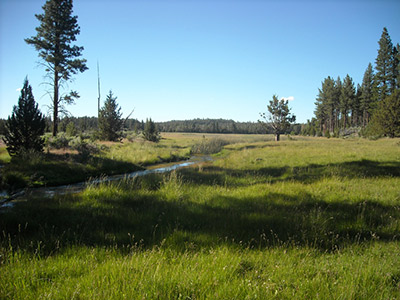 Scenery near the Eagle Lake Field Station.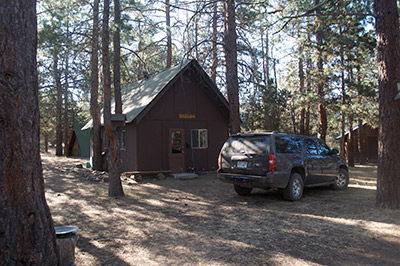 Cabins at the Eagle Lake Field Station.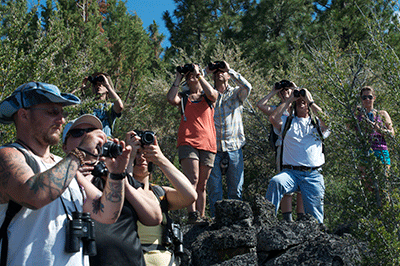 Field bird identifications near the Eagle Lake Field Station.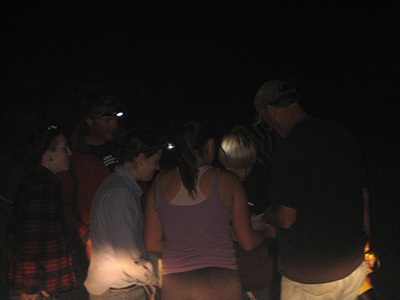 Nighttime field trip studying nocturnal animals.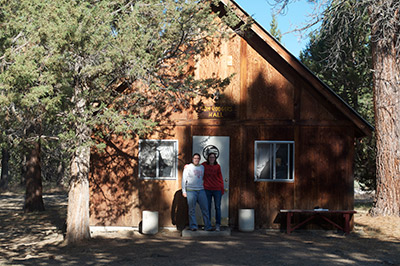 Dining hall at the Eagle Lake Field Station.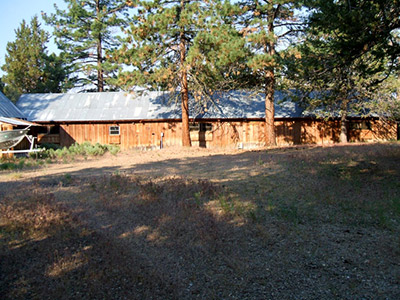 Five-room laboratory at the Eagle Lake Field Station.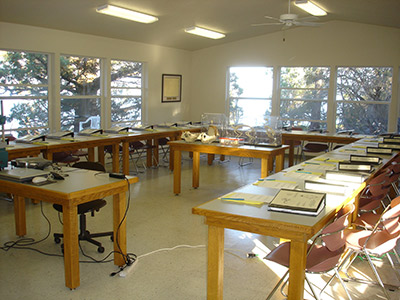 Conference Center at the Eagle Lake Field Station.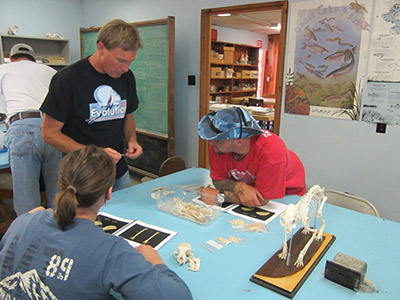 At work in the osteology lab, Eagle Lake Field Station.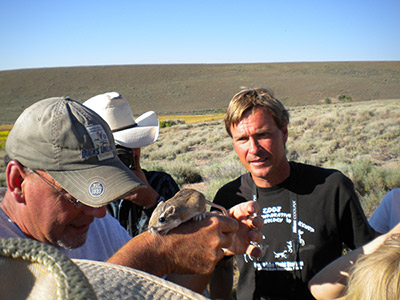 Jay Bogiatto (left) and Jack Broughton (right) examine an Ord's Kangraroo Rat.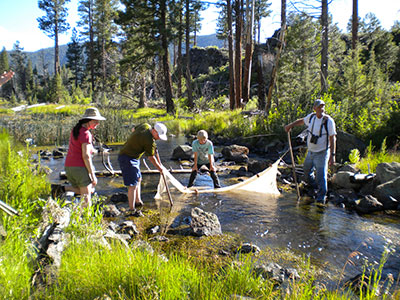 Seining fish at Willow Creek.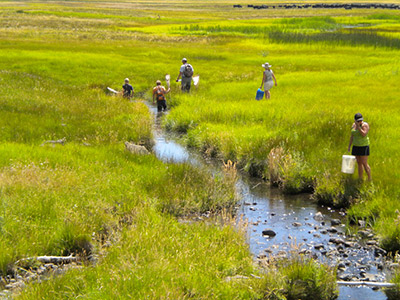 Collecting reptiles and amphibians in a meadow near the Eagle Lake Field Station.