Department of Anthropology
icon

Equity, Diversity a
nd Inclusion
Donate to Anthropology Students
With the help of alumni, donors and friends of Anthropology, we provide scholarships to reward meritorious students and assist those who face financial burdens in funding their education.
Undergraduate Programs
---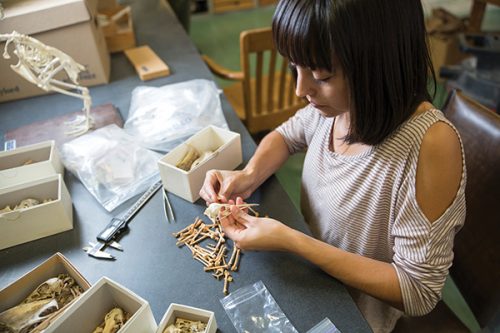 Anthropology Major
Anthropology is the comparative, evolutionary and historical study of human, and nonhuman primates.
Anthropology Minor
Because we study all aspects of humans, anthropology is holistic and inter-disciplinary and anthropologists work hand-in-hand with other sciences such as biology, physiology, sociology and psychology—just to name a few.
Integrative Human Biology Minor (IHB)
Engage in research in human form and function, human evolution and biological variation, human behavior, and the roles humans play in local and global ecosystems. Students will acquire the broad but rigorous background they will need as professionals in the 21st-century health sciences and many other fields that engage directly with aspects of human adaptation and welfare.
Have a question about anthropology? Ready to declare?
Upcoming Events
Fall 2022 Colloquium Speaker Series

September Colloquium
Alexandra Niclou PhD
Postdoctoral Fellow, Department of Anthropology, University of Notre Dame
"How Anthropological Approaches Benefit Obesity Research: The Brown Fat Example"
Thursday, Sept 22nd @ 2:15PM
RSVP HERE for Zoom information
Click to read Abstarct
"How Anthropological Approaches Benefit Obesity Research: The Brown Fat Example"
Abstract:
Brown adipose tissue (BAT), or brown fat, generates heat at mild cold exposure in mammals including humans. Its primary metabolic effects, increased energy expenditure, glucose disposal, and fatty acid metabolism point toward the potential use of brown fat in anti-obesity therapy and type II diabetes prevention. However, the current gold standard method for brown fat detection is relatively invasive and restricted to clinical settings. A BAT-inferring field-based approach commonly used by human biologists allows for greater exploration of the metabolic properties among different populations outside of the lab context. In this talk, I use the example of my work with a Samoan research team investigating the metabolic effects of brown fat activity in residents of Apia and its surrounding villages. I compare our results with that of other human biologists working in extreme environments and relying on field-based technologies. Anthropological fieldwork and perspectives highlight the differences in metabolic effects of brown fat and ensure that in our implementation of public health treatments we account for the breadth of human biological variation ultimately benefitting a larger number of people.