Department of Anthropology
icon

Equity, Diversity a
nd Inclusion
Donate to Anthropology Students
With the help of alumni, donors and friends of Anthropology, we provide scholarships to reward meritorious students and assist those who face financial burdens in funding their education.
Undergraduate Programs
---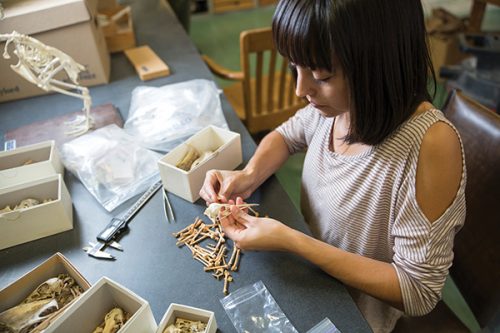 Anthropology Major
Anthropology is the study of human beings; their cultures, biology, behaviors, and their changes through time (evolution).
Anthropology Minor
Because we study all aspects of humans, anthropology is holistic and inter-disciplinary and anthropologists work hand-in-hand with other sciences such as biology, physiology, sociology and psychology—just to name a few.
Integrative Human Biology Minor (IHB)
Engage in research in human form and function, human evolution and biological variation, human behavior, and the roles humans play in local and global ecosystems. Students will acquire the broad but rigorous background they will need as professionals in the 21st-century health sciences and many other fields that engage directly with aspects of human adaptation and welfare.
Have a question about anthropology? Ready to declare?
Upcoming Events
Spring 2022 Colloquium Speaker Series

Shane Macfarlan PhD
Associate Professor, Department of Anthrpology, University of Utah
"Human Ecology of the Baja California Peninsula"
Thursday, April 4th @ 2:15PM
RSVP HERE for Zoom information
Click to read Abstarct
"Human Ecology of the Baja California Peninsula"
Abstract:
The Baja California peninsula is a land of contrasts. With almost 2000 miles of coastline, but virtually no active rivers, water is everywhere but nowhere. What has made human life possible in this hot, arid region over the last 15000 years are its desert springs and the seasonal rains brought by the North American Monsoon. This presentation explores the diverse ways in which these ecological constraints have impacted human population dynamics and culture processes over the last several hundred years. It places in stark contrast the challenges to sustainable development, as well as cultural and ecosystem resilience amid population growth, climate change, and changing land use.