Department of Anthropology
icon

Equity, Diversity a
nd Inclusion
Donate to Anthropology Students
With the help of alumni, donors and friends of Anthropology, we provide scholarships to reward meritorious students and assist those who face financial burdens in funding their education.
Undergraduate Programs
---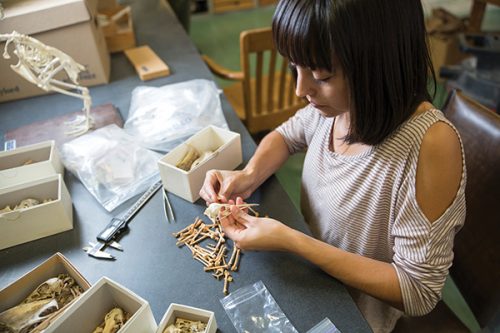 Anthropology Major
Anthropology is the study of human beings; their cultures, biology, behaviors, and their changes through time (evolution).
Anthropology Minor
Because we study all aspects of humans, anthropology is holistic and inter-disciplinary and anthropologists work hand-in-hand with other sciences such as biology, physiology, sociology and psychology—just to name a few.
Integrative Human Biology Minor (IHB)
Engage in research in human form and function, human evolution and biological variation, human behavior, and the roles humans play in local and global ecosystems. Students will acquire the broad but rigorous background they will need as professionals in the 21st-century health sciences and many other fields that engage directly with aspects of human adaptation and welfare.
Have a question about anthropology? Ready to declare?
Graduate Dissertation Defense

PhD Candidate Allison Wolfe's Dissertation Defense
Terminal Pleistocene and Early Holocene Avifauna of the Bonneville Basin: Explaining Past Variation and Informing Future Conservation
June 16th, 2021 @12:15PM
Email brittany.kiser@anthro.utah.edu for zoom information
Click to read Abstarct
Terminal Pleistocene and Early Holocene Avifauna of the Bonneville Basin: Explaining Past Variation and Informing Future Conservation
The final regression of Lake Bonneville at the end of the Pleistocene was followed by the movement of humans across the basin and 13,000 years of substantial environmental changes that in turn affected the region's flora and fauna. However, the study of late Quaternary biotic change in the Bonneville basin lacks comprehensive analysis of avifauna, despite the presence of avifaunal remains in a number of sites across the basin. As a result, little is known about the dynamics of avifaunal populations in relation to environmental change and human exploitation. This dearth of information about past bird populations limits our ability to develop management strategies for bird species in the face of looming environmental change. This dissertation utilizes the terminal Pleistocene and early Holocene paleontological avifaunal assemblage from Homestead Cave to address aspects of the connection between birds, humans, and the environment, and contributes to a greater understanding of avifauna in the Bonneville basin. First, I use the avifaunal record from Homestead Cave to investigate how specific groups of aquatic and terrestrial avifauna changed through time in responseto local environmental change during this period. Then, using the Homestead record as a baseline, I employ prey model logic to predict under what conditions human foraging decisions resulted in the exploitation of Greater Sage-Grouse (Centrocercus urophasianus) in the Bonneville basin, and test my predictions against local archaeological records. Finally, I link paleozoological records of Greater Sage-Grouse with paleoenvironmental data and paleoclimatic models to explore the species' niche in the past relative to its present range and, in doing so, demonstrate the potential of these data to inform modern bird conservation.