Department of Anthropology
icon

Equity, Diversity a
nd Inclusion
Donate to Anthropology Students
With the help of alumni, donors and friends of Anthropology, we provide scholarships to reward meritorious students and assist those who face financial burdens in funding their education.
Undergraduate Programs
---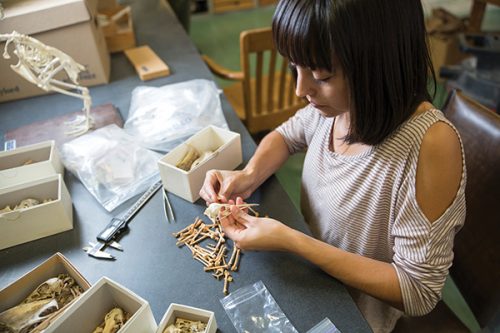 Anthropology Major
Anthropology is the study of human beings; their cultures, biology, behaviors, and their changes through time (evolution).
Anthropology Minor
Because we study all aspects of humans, anthropology is holistic and inter-disciplinary and anthropologists work hand-in-hand with other sciences such as biology, physiology, sociology and psychology—just to name a few.
Integrative Human Biology Minor (IHB)
Engage in research in human form and function, human evolution and biological variation, human behavior, and the roles humans play in local and global ecosystems. Students will acquire the broad but rigorous background they will need as professionals in the 21st-century health sciences and many other fields that engage directly with aspects of human adaptation and welfare.
Have a question about anthropology? Ready to declare?
Upcoming Events
PhD Candidate Dissertation Defense

PhD Candidate Kurt Wilson
"Assessing socioecological interactions with subsistence and inequality: climate and demography drive 7000 years of dietary change in the central Andes"
Wednesday, June 8th @ 1PM
RSVP HERE for Zoom information
Click to read Abstarct
"Assessing socioecological interactions with subsistence and inequality: climate and demography drive 7000 years of dietary change in the central Andes"
Abstract:
Severe material inequality has become one of the hallmarks of the human experience, yet it is not ubiquitous among ethnographic or archaeological populations. Further, there is ongoing debate regarding how inequality's suppression, emergence, persistence, and presence is influenced by local ecological conditions and individual decision-making. To help address these debates, I target my research toward exploring how local conditions influence egalitarian and non-egalitarian resource distribution among foragers, impact the presence/absence of inequality across societies, and the scope of impact local ecology may have had on human subsistence behavior. In this presentation, I focus on the latter topic as changes in subsistence are known to have large impacts on many facets of the human experience, including inequality. Using the central Andes as a case study, I generate and couple a large database of isotopically measured individuals with paleoclimatic data and estimates of relative past population to assess the influence of climate and population change on dietary change. I show that climate and population strongly predict diet, with climate having the much larger impact. Paired with broad behavioral changes, this suggests that even in an area renowned for its sociopolitical, ritual, and economic variability, ecological change is the strongest driving factor in central Andean dietary and subsistence change over the past nearly 7,000 years. However, the analysis also suggests that during the Inca empire dietary signatures from across the central Andes converge, raising the possibility that the sociopolitical influence of the Inca empire may have overridden that of local climatic conditions. The outcomes of this portion of my ongoing research provide a) the first region-wide characterization of dietary change in the central Andes, b) quantitative evidence of how strongly local ecological conditions influence diets, and c) the foundation for future work exploring more directly how human-environment relations around subsistence in the Andes interact with sociopolitical complexity, intensification, inequality, demography, and local environmental change.