Department of Anthropology
icon

Equity, Diversity a
nd Inclusion
Donate to Anthropology Students
With the help of alumni, donors and friends of Anthropology, we provide scholarships to reward meritorious students and assist those who face financial burdens in funding their education.
Undergraduate Programs
---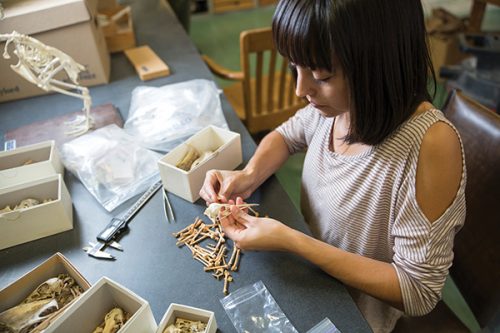 Anthropology Major
Anthropology is the study of human beings; their cultures, biology, behaviors, and their changes through time (evolution).
Anthropology Minor
Because we study all aspects of humans, anthropology is holistic and inter-disciplinary and anthropologists work hand-in-hand with other sciences such as biology, physiology, sociology and psychology—just to name a few.
Integrative Human Biology Minor (IHB)
Engage in research in human form and function, human evolution and biological variation, human behavior, and the roles humans play in local and global ecosystems. Students will acquire the broad but rigorous background they will need as professionals in the 21st-century health sciences and many other fields that engage directly with aspects of human adaptation and welfare.
Have a question about anthropology? Ready to declare?
Spring 2021 Colloquium Speaker Series

April Colloquium
Mary Shenk PhD
Associate Professor, Department of Anthropology, PennState
"Market Integration and Transitions in Fertility, Marriage, and Kinship Systems"
Thursday, April 1, 2021 @ 2:15PM
RSVP FOR THE ZOOM LINK HERE
"Market Integration and Transitions in Fertility, Marriage, and Kinship Systems"
Abstract:
The process of integration into a global market economy is increasingly affecting and defining life in much of the developing world with a cascade of consequences for systems of production, reproduction, and social relationships. In this talk I discuss the key outcomes of market integration for fertility, marriage, and kinship systems in South Asia using examples from my work in Bangladesh, India, and Pakistan. I argue that industrialization and market integration sparked a demographic transition to lower fertility, and that together these economic and demographic transitions have directly and indirectly precipitated a further series of changes in whether marriages are arranged, the likelihood of marrying kin, and the form of marriage transactions including a switch from brideprice to dowry. Using logic from evolutionary ecology, I interpret these changes as outcomes of two strategic shifts in individual behavioral strategies—one towards lower fertility and higher parental investment, and the other from intensive to extensive kin relationships—occurring simultaneously in the economic and social context of market integration.