Department of Anthropology
icon

Equity, Diversity a
nd Inclusion
Support Students Today
Donations help support scholarships and fellowships for deserving anthropology students and make possible guest lectures by leaders in the field.
Prefer to give by phone?
Call us at 801-587-9310
For personal assistance with giving options, please contact giving@csbs.utah.edu
Undergraduate Programs
---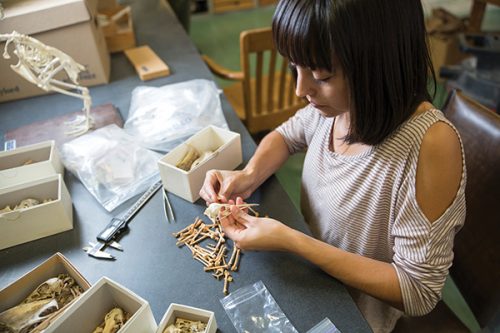 Anthropology Major
Anthropology is the comparative, evolutionary and historical study of human, and nonhuman primates.
Anthropology Minor
Because we study all aspects of humans, anthropology is holistic and inter-disciplinary and anthropologists work hand-in-hand with other sciences such as biology, physiology, sociology and psychology—just to name a few.
Integrative Human Biology Minor (IHB)
Engage in research in human form and function, human evolution and biological variation, human behavior, and the roles humans play in local and global ecosystems. Students will acquire the broad but rigorous background they will need as professionals in the 21st-century health sciences and many other fields that engage directly with aspects of human adaptation and welfare.
Have a question about anthropology? Ready to declare?
Upcoming Events
Fall 2022 Colloquium Speaker Series

December Colloquium
Mitchell Power PhD
Professor and Curator, Department of Geography, U of U, NHMU
"Fire, climate and civilizations in the Horn of Africa during the last 3500 years"
Thursday, Dec 1st @ 2:15PM
RSVP HERE for Zoom information
Click to read Abstarct
"Fire, climate and civilizations in the Horn of Africa during the last 3500 years"
Abstract:
As part of an international team of scientists, research in Ethiopia during the past ~15 years has been exploring causes for the rise and fall of the Aksumite Empire on the Tigray Plateau in northern Ethiopia. Specifically, we are interested in environmental change during the early state formation of the Pre-Aksumite and Aksumite Kingdom (1600 BC-AD 700) in the Horn of Africa. To understand the role of natural versus anthropogenic drivers of the expansion and eventual collapse of the Aksumite Kingdom, palaeoenvironmental records are explored during the Pre-Aksumite and Aksumite periods in northern Ethiopia. Sedimentary records explore charred plant remains, stable isotopes, and elemental (XRF) data to provide local- and regional- scale records of environmental variability during the past ~3500 years. Preliminary evidence suggests that both Pre-Aksumite and Aksumite polities emerged during wetter-than-average climate conditions and that the rise of the Pre-Aksumite followed a significant increase in fires as well as an increase in C4 relative to C3 plant cover on the Tigray Plateau. Increased intensity and magnitude of landscape burning during the pre-Aksumite period was followed by a reduction in fire activity both locally and regionally. Changes in fire were likely modulated by both natural climate variability and changes in human activities across the region and current and future research is exploring multiple causes of long-term impacts on the Tigray Plateau.