Department of Anthropology
icon

Equity, Diversity a
nd Inclusion
Donate to Anthropology Students
With the help of alumni, donors and friends of Anthropology, we provide scholarships to reward meritorious students and assist those who face financial burdens in funding their education.
Undergraduate Programs
---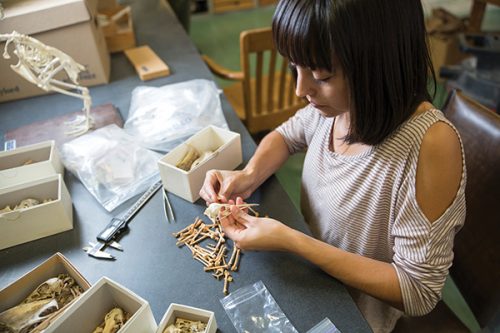 Anthropology Major
Anthropology is the study of human beings; their cultures, biology, behaviors, and their changes through time (evolution).
Anthropology Minor
Because we study all aspects of humans, anthropology is holistic and inter-disciplinary and anthropologists work hand-in-hand with other sciences such as biology, physiology, sociology and psychology—just to name a few.
Integrative Human Biology Minor (IHB)
Engage in research in human form and function, human evolution and biological variation, human behavior, and the roles humans play in local and global ecosystems. Students will acquire the broad but rigorous background they will need as professionals in the 21st-century health sciences and many other fields that engage directly with aspects of human adaptation and welfare.
Have a question about anthropology? Ready to declare?
Upcoming Events
Fall 2021 Colloquium Speaker Series

Colleen B. Young PhD
PhD Anthropology, University of Missouri, BA Anthropology, UC Berkeley
"Body size and shape in insular environments and applications of the Island Rule in biological anthropology"
Thursday, October 7th @ 2:15PM
RSVP HERE for Zoom information
Click to read Abstarct
"Body size and shape in insular environments and applications of the Island Rule in biological anthropology"
Abstract:
The discovery of small-bodied hominin fossils in 2004 on the island of Flores, Indonesia, unearthed a large debate within biological anthropology. This debate has exemplified that there are questions and research areas in biological anthropology that would benefit from a better understanding of morphological evolution on islands. To improve understanding on the causes and products of body size and shape variation within island areas, my research assesses how primates on islands, omnivorous island foxes, and marine-hunter-gatherers in Baja California biologically and behaviorally respond to resource limitations in insular areas. In this presentation, I will introduce these research areas and offer a framework for interpreting hominin morphology on islands. I stress the importance for accounting for the evolutionary niche of an organism and how shifts in factors influencing this niche on islands may result in altered behavioral and biological traits.